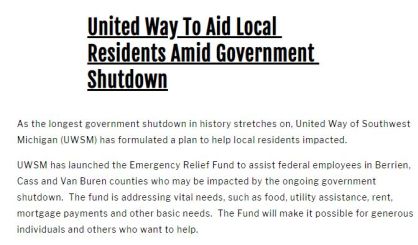 The United Way of Southwest Michigan is now working to help local residents affected by the partial government shutdown. UWSM President Anna Murphy tells WSJM News they've set up a fund to provide financial aid to government employees who are hurting due to a lack of pay. That's not all.
"The other thing that we'll do is we'll continue to provide information about where to go if people want to donate gift cards and that type of thing," Murphy said. "There are some locations that we've partnered with."
Murphy says gas cards, in particular, are needed. Other than that, cards to places like Meijer, Walmart, and supermarkets are welcome. You can drop off those items at the First Church of God in St. Joseph, the United Way office in Paw Paw, the Cass District Library in Cassopolis, and the United Way office in St. Joe. As for financial donations, Murphy says they've heard of big needs.
"Needs for food, utility assistance, rent, mortgage payments, possibly," Murphy said.
The drop off locations are:
The First Church of God is located at: 2627 Niles Ave., St. Joseph, MI 49085 (Mon. – Thurs. 8:30am –4:30pm)
Cass District Library is located at: 319 M-62, Cassopolis, MI 49031 (Mon. – Thurs. 9:00am –8:00pm; Fri. 9:00am – 6:00pm; Sat. 9:00am – 3:00pm
Van Buren County United Way is located at: 181 W. Michigan Ave., #4, Paw Paw, MI 49079 (Mon. – Fri. 8:45am – 4:00pm)
You can also donate at www.UWSM.org/Emergency-Relief-Fund.
Donations can be accepted via text message. Text UWSMrelief to 51555.
If you are a federal worker impacted by the shutdown, go to www.uwsm.org/emergency-relief-fund for information on how you can receive services.