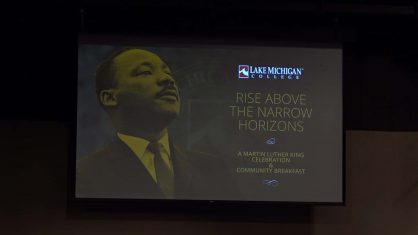 Lake Michigan College has kicked off its annual week-long celebration of the life of civil rights icon Dr. Martin Luther King, Jr.
For the official Dr. Martin Luther King, Jr. Day holiday, the college held its annual celebration and community breakfast, headlined by keynote speaker Alonzo Kelly, a leadership consultant and strategist. Kelly said it's important that people of all age groups recognize King's life and work.
"I think it's important to ask current generations their experience with him, to do an audit on ourselves; do they truly understand what it is he stood for, or have we tailored the message for our convenience?" Kelly said.
Congressman Fred Upton also spoke at the event, condemning the words of his fellow House Representative Steve King of Iowa, who questioned the offensiveness of the terms "white nationalist" and "white supremacist" earlier this month. He also criticized Missouri Republican Congressman Jason Smith for yelling "Go back to Puerto Rico" on the House floor last week. Upton called on everyone to do more to honor Martin Luther King, Jr.'s legacy.
"I fear that after his 'I Have a Dream,' he would now say 'this is my nightmare,'" Upton said. "This is our nightmare, and we must stop the madness."
The celebration ended with the presentation of the college's Martin Luther King, Jr. Diversity Award. There were two recipients this year: the nonprofit organizations 100 Women Strong, which provides one-time financial assistance to women in Berrien County who don't qualify for other community resources, and the OutCenter, an advocacy and support group for the local LGBT community.
LMC will be hosting panels on racial equality and student volunteer opportunities to honor Dr. King throughout the week. More information can be found at lakemichigancollege.edu/mlk.