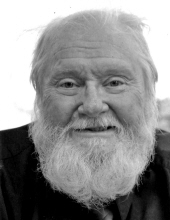 Robert Charles Butts, 87, a long-time resident of Berrien Springs, died Monday, January 7, 2019, at Royalton Manor.
Born November 2, 1931, he grew up in Streator, Illinois, the adopted son of Charles and Thelma Butts. His neighbors, Myrl and Alma Hanson, took a deep interest in him and Alma became like a mother to Bob. It was Alma who led him to love Jesus, and Bob remained devoted to his Lord and his church all of his life.
Bob served his country in the U.S. Army and later worked at Premier Tool and Die in Berrien Springs for many years. He loved music, especially classical, and enjoyed singing solos. He made friends easily and kept in touch by phone and by mailing cards for special occasions.
Survivors include Dick (Bonnie) Proctor of Berrien Springs, Perry Carl (Linda) Hendrickson of Oklahoma, Jonathan (Melissa Joy) Sharley of California, and many, many friends.
A memorial service will be held in the Castelbuono Youth Chapel of Pioneer Memorial Church in Berrien Springs, where he was a member, on January 17 at 4 p.m., with Elder John Glass officiating.
Donations in Bob's memory may be made to Your Story Hour in Berrien Springs.
The Allred Funeral Home in Berrien Springs is assisting the family with arrangements. www.allredfuneralhome.com.
Posted On: Friday, January 11, 2019 4:17 PM