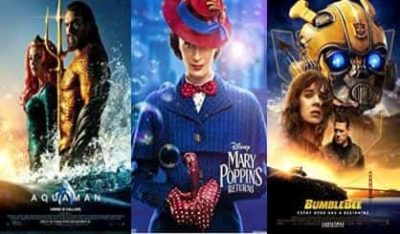 Flick Pick is a podcast about movies. In today's episode, Andrew Green and Jacob Holmes discuss the new films opening this week.
We've got a lot of them. First up is the much-anticipated DC Comics film, Aquaman. However, if you're not into watching Jason Momoa talk to fish, there's also Bumblebee. However, if you're not interested in watching Hailee Steinfeld drive a robot, then there's Mary Poppins Returns. However, if you don't fancy Emily Blunt flying with an umbrella, Welcome to Marwen also opens. However, if you're not excited to watch Steve Carell cope with trauma, you could see Second Act. You know what? On second thought…
We'll talk about them all, plus the other movies playing in Benton Harbor on Flick Pick! Scroll down and click the play button to hear the podcast.
Click here to listen to additional episodes of Flick Pick.
Podcast: Play in new window | Download | Embed
Subscribe: Apple Podcasts | Android | Email | Google Podcasts | Stitcher | Spotify | RSS | More