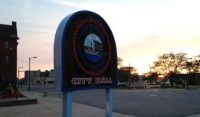 Benton Harbor City Commissioners have taken a step to make their meetings more flexible.
At Monday's meeting, they voted to allow members to submit resolutions from the floor and to suspend the rules at the will of the majority. It used to be that way, but the rules were changed under former Mayor James Hightower. Since then, resolutions mostly had to be approved for the agenda beforehand. Mayor Pro Tem Duane Seats was against going back to allowing for surprise resolutions. Mayor Marcus Muhammad agreed, asking for transparency and calling the move back to the old rules an "affront to democracy."
"A lot of times, we'd bring stuff to the floor with no documentation, no resolution, nothing," Seats said.
The majority disagreed with Seats and Muhammad, with Commissioner Ron Singleton saying strict procedures sometimes handicap the body. Commissioner Sharon Henderson voted with the mayor and mayor pro-tem, while the rest of the votes were in favor of the changes.