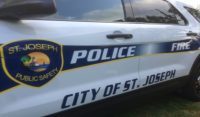 One of the last police or public safety departments in Berrien County to get body cameras for officers will soon have them.
The St. Joseph City Commission has approved the purchase of 24 cameras, and the Department of Public Safety has explained to us why it took until now.
"I wanted the technology to catch up, so I wanted to wait until the bugs got worked out of the original system," said Deputy Public Safety Director Steve Neubecker. "I waited the extra year to make sure we were buying the right system that was going to last us at least five years."
Neubecker says some officers wanted to get their own GoPro cameras while waiting for the department to go through official channels, but he convinced them to hold off. The city received a grant from the Michigan Municipal Risk Management Authority for $10,000 to help with the cost of the cameras. The city will spend a little over $40,000 for the cameras, which are expected to be in use by the end of the month.