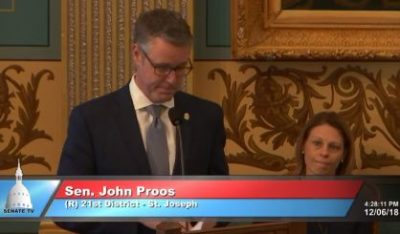 There are still a few session days remaining, but state Senator John Proos has said his goodbyes to his colleagues in Lansing. After three terms in the House and two in the Senate, the St. Joseph Republican is term-limited at the end of this year. He delivered his farewell address on the Senate floor Thursday afternoon and thanked voters in Berrien, Cass, St. Joseph and Van Buren counties for sending him to the upper chamber for two terms.
"I'm continually amazed at the resilience, ingenuity, and faithfulness of the people of this region and what they exhibit every day in their hard work from a Southwest Michigan common sense perspective to that work ethic that really is second-to-none," said Proos.
He also addressed the overall political climate in Michigan and the nation and offered his solution to fixing it. "The more trust we build in this chamber, the more opportunity we have for trust to be built in our communities. That's what seems to be missing these days," said Proos.
In a 20-plus minute speech, Proos shared humorous stories about his colleagues, from staring down the much larger Senator Jack Brandenberg as the Senate sergeant at arms approached the desk unsure of what the confrontation was about to the dietary habits of Senator Coleman Young the Second drinking multiple cans of Red Bull and eating bags of Cheetos during lengthy committee hearings. On election night, Proos told WSJM News he's undecided on his future plans after he leaves office.