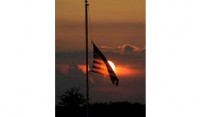 Congressman Fred Upton remembers former President George H.W. Bush as someone who could work with others and get things done. With Bush's services this week, Upton tells WSJM News he knew the former POTUS well. When Upton worked in the Reagan White House, then-Vice President George Bush's office was right around the corner from his.
"When I won my first election, his call was the first one the next morning congratulating me," Upton said.
Upton says he remembers George H.W. Bush as a coalition builder, a war hero, and a sportsman.
"As many have said over this past week and with the eulogy, he's got to be about the best one-term president this nation has ever seen," Upton said.
Upton told us Bush had a "resume people would die for." The U.S. House put off this week's work to mourn the former president, but Upton says they will get critical measures passed before the year's end, as Bush would have wanted.