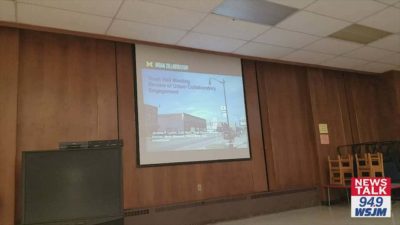 A team from the University of Michigan has spent the past year studying problems faced by the city of Benton Harbor and how they could be addressed.
At a Monday meeting, members of U of M's Urban Collaboratory gave the public an update on their progress. The Collaboratory told us one focus is the Ox Creek watershed, which is affected by runoff. The team has put sensors into the creek to study the issue and believes simple valves in existing dams and culverts could be used to control how much runoff winds up in the creek and how polluted it is.
"The longer you hold water in a natural setting, typically that storm water essentially has precipitants that come out, and that leads to a higher quality of water that would then go into natural bodies of water like Lake Michigan," said Jerome Lynch, a member of the Collaboratory.
Lynch says existing infrastructure that channels water could be outfitted at little cost. Another issue the team has studied is public transportation. It's conducted workshops and surveys to better understand the need patterns. More of them will be held as the Collaboratory looks at setting up in-demand ride services in collaboration with Dial and Ride and others.