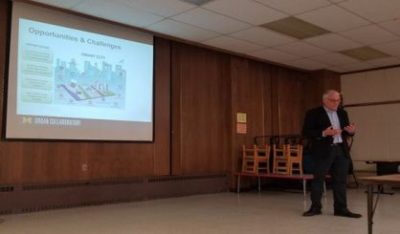 A team from the University of Michigan has spent the past year studying problems faced by the city of Benton Harbor and how they could be addressed. At a Monday meeting, members of U of M's Urban Collaboratory gave the public an update on their progress. The Collaboratory's Jerome Lynch told WSJM News one focus is the Ox Creek watershed, which is affected by runoff. The team has put sensors into the creek to study the issue and believes simple valves in existing infrastructure like dams could be used to control how much runoff winds up in the creek and when, along with how polluted it is.
"The longer you hold water in a natural setting, typically that storm water essentially has precipitants that come out, and that leads to a higher quality of water that would then go into natural bodies of water like Lake Michigan," Lynch said.
Lynch says existing infrastructure that channels water could be outfitted at little cost. The Urban Collaboratory has also been looking at the city of Benton Harbor's water system. Lynch tells us they're planning to use special garden hose attachments to measure water pressure at homes in outlying areas. He says service may have been negatively affected as the system designed for multiple communities lost users over the years.
"One way we can tell that is to take pressure measurements in the system, compare those pressure measurements to what are predicted by hydraulic models of the same system, and then essentially refine those models and look at ways to optimize the delivery of water," Lynch said.
Lynch says the Urban Collaboratory is working with the city water department on that project. It's also studying local transportation needs, having conducted several surveys and workshops so far. More are planned as the group works with local transportation services.
"Then essentially look for solutions that could optimize the service of the system, which is looking at accessibility of jobs, healthcare, education, recreation, what have you," Lynch said.
The ongoing transportation study has been bolstered with the recent announcement of support from the National Science Foundation, and the U of M team is working with local stakeholders like the Southwest Michigan Planning Commission, the Twin Cities Area Transportation Authority, Kinexus, and Lake Michigan College. The Urban Collaboratory is a group of researchers currently doing work in Detroit, Grand Rapids, Ypsilanti, and Ann Arbor to address urban problems. Its work in Benton Harbor is about half finished.