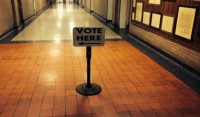 While  there was positive news for Democrats around Michigan on Tuesday, in southwest Michigan, Democrats didn't fare as well. Republicans appear to retain the state legislative seats despite some attempts by local Democrats to dislodge them. One candidate who fell short was Ian Haight, the Democrat who ran against Kim LaSata for state Senate in the 21st District. He told us he thinks it was worth sending a message.
"Thing was definitely a long shot," Haight said. "With having all three counties here that tend to be a little red, we went for it, and I think if you look at the numbers, what I was seeing, we outperformed the other Democrats in the area, which tells me people got behind our race, but it's still a red area. That's where we're at."
The campaign of Joey Andrews, who ran for state House in the 79th District against Pauline Wendzel, told us late Tuesday they weren't yet conceding, and would make their decision in the morning. Wendzel declared victory in the race.