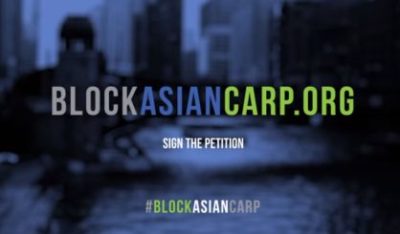 A new two-minute video highlighting the damage done in Illinois by Asian carp is being promoted by the Michigan Department of Natural Resources. The video was posted by the group "Block Asian Carp" with a link to a petition urging immediate action by the state of Illinois to fully sign on to Governor Snyder's pledge to have Michigan pay the share for states unable or unwilling to spend the needed money to implement the U.S. Army Corps of Engineers plan to block the invasive fish at the Brandon Road Lock and Dam in Joliet, Illinois.
"It would just be devastating, probably billions of dollars in lost revenue if they would do to Lake Michigan what they've done to the Illinois River," says Bath, Illinois village president Floyd Foutch in the video. The clip has footage of the carp leaping out of the water and warnings from fishermen and others that they can cause injuries and damage equipment. Experts warn if the Asian carp get into Lake Michigan, they will quickly wipe out the commercial and recreational fishing industries in all the Great Lakes.
The Michigan Department of Natural Resources' Ed Golder tells our newsroom they shared the video as part of a longer-term effort to rally support for the efforts of Governor Snyder and others to prevent the carp from getting into Lake Michigan. Michigan, Wisconsin, Ohio, Ontario, and the city of Chicago have signed on to Governor Snyder's regional coalition, and the video is tied to a petition urging Illinois leaders to also get on board.
You can view the video here, and the petition is available here.