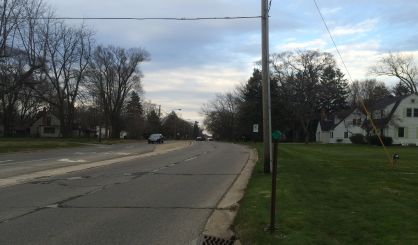 The Southwest Michigan Planning Commission is close to wrapping up its report on pedestrian options for Napier Avenue in St. Joseph and Benton Townships, and a meeting will be held this month for the public to offer more input. Associate planner Ryan Fellows tells WSJM News the question is whether sidewalks can be put in along Napier when the Berrien County Road Department starts repaving the road from the St. Joe River to I-94 next year. The planning commission is making recommendations.
"We can point out where sidewalk could fit and how close it would be to the road, and how people would feel about it, and we want to add that input into the final version of our report," Fellow said.
Fellow says a workshop will be held on Monday, September 24 from 4 p.m. to 6 p.m. at Napier Parkview Baptist Church for everyone to learn more.
"We'll have tour demonstrations every half hour," Fellows said. "Anybody can drop in at any time. We'll also have exhibit boards available showing lots of good information."
The Southwest Michigan Planning Commission has its draft report posted at NapierAvenue.org. Everyone is welcome to the open house.