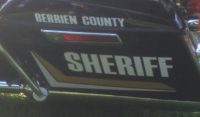 You will see more Berrien County Sheriff's patrols in Benton Harbor for the rest of the year. The County Board's Administration Committee heard from Sheriff Paul Bailey Thursday morning about the need due to the recent increase in violence, and Commissioner Mack Elliott said the sheriff's budget has the money to pay for the overtime needed.
"He has $8,000 left in that line item which he'll start using immediately," Elliott said at the county board meeting. "We endorsed going to an additional $25,000." The County Board will revisit the extra patrols in November.
At a press conference in Benton Harbor later in the day, Sheriff Bailey urged people to not be quiet when they know details about crimes in the city.
"We have to have people speak out to stop this. Our children are dying, and we can't stand for that," said Bailey.
The sheriff also acknowledged the hard work being done by Benton Harbor Public Safety Director Dan McGinnis and others to solve the crimes.
"Director McGinnis, his heart is breaking from the violence that's happening. He's worked very long hours, his officers have worked long hours trying to address it. We're just here to give him some support so we have numbers out there to address these violent issues," said Bailey.
Benton Harbor authorities are still investigating the shootings of four people in three separate incidents earlier this week.