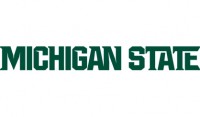 Classes are underway for the year at Michigan State University, with the campus community still recovering from the Larry Nassar sex abuse scandal. Interim MSU president John Engler spoke with WSJM Wednesday morning about the changes that he's made since taking over to try to address what happened and the cover-up of the abuse at several levels.
"We've changed a lot of people," Engler said, adding "There's a lot of new leaders in place administering these programs." He added efforts are ongoing to connect with students and parents to encourage them to not be reluctant to speak up when they know something's not right.
Engler was asked about the #MeToo movement and its impact on the university's reforms.
"It's societal; it's across the nation. It's across the nation: business, politics, entertainment for sure, the news business, sports. How do men and women get along? How do they treat each other, especially where you've got men in positions of power over women."
He added they are close to having the $500 million settlement with Nassar's survivors finalized by a federal judge. As for the next president of MSU, Engler says he might have a little bit of input, but the 19-member search committee is already at work and he will generally stay out of their way.