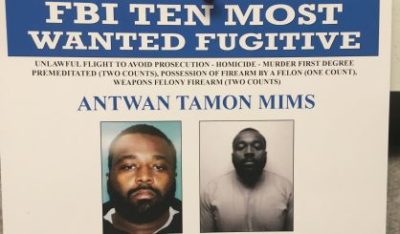 Antwan "Tank" Mims is back in southwest Michigan after spending some time on the FBI's Ten Most Wanted Fugitives list this summer for a double murder at a party on March 25. He is expected to be arraigned Tuesday on two charges of open murder for the deaths of 22-year-old Cortez Miller and 29-year-old Michael Johnson. Benton Harbor Public Safety Director Dan McGinnis talked to our partners at WNDU NewsCenter 16 after Mims was taken off a plane and sent to the Berrien County Jail Monday afternoon.
"He's an extremely dangerous individual," said McGinnis. "Any person who would do that has got to be off the streets."
As Mims got off the plane and was taken to a police car, he appeared to dance, which offended McGinnis.
"It's almost like it was a joke. He's taken two people's lives."
Authorities say Miller was shot in the back of the head and Johnson was shot in the face by Mims after he had already shot each of them once and they had fallen to the ground. The murders happened in front of at least 100 witnesses at a house party on Lavette Street in Benton Harbor. Mims was captured in suburban Atlanta by the FBI on July 31. WNDU was the only news outlet to receive a tip about the time the plane carrying the fugitive was going to arrive at the Southwest Michigan Regional Airport on Monday.