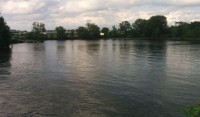 An ongoing study on the future development of the riverfront in St. Joseph and Benton Harbor will result in some workshops to seek public input next month. At this week's Benton Harbor City Commission meeting, commissioners heard from Don Carpenter, a consultant working on the Twin Cities Harbor Visioning Charrette. It's a grant-funded effort to plan for riverfront development in a sustainable way.
"We'll do a series of design exercises," Carpenter said. "We listen to the community, hear about the strengths of the harbor for them, what it means to have this waterfront community, what can make it a better place in the future, what economic opportunities are available."
Carpenter said the Charette is focusing on the river from Marina Island to Lake Michigan.
"It's all waterfront-adjacent property, Carpenter said. "The study itself is focused on a harbor and the waterfront, and what are the sustainable strategies that can be used to promote long-tern economic prosperity for the area."
The first meeting for the public will be September 19 at Kinexus in Benton Harbor starting at 6 p.m. Carpenter said the Charette considers possibilities from entertainment venues to museums for the waterfront. Benton Harbor Mayor Pro Tem Duane Seats told him Monday the city commission will not just be a rubber stamp for the Charette's recommendations. Carpenter promised much public input will be sought.