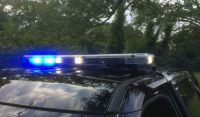 The Michigan State Police post in Niles and the Niles Police Department are the first law enforcement agencies in Berrien County to be picked for a statewide program to help identify vulnerable adults or impaired children. MSP Lieutenant Melinda Logan tells WSJM News the VIP program was created by legislation to protect those individuals.
"We have an opportunity for adults that could be vulnerable or children who are impaired to come in and have electronic fingerprinting and a photograph taken just in case they get lost," Logan said.
Normally, state police can't keep fingerprints unless they come from a criminal record. However, Logan says VIP makes an exception and lets the MSP to keep fingerprints and photos of those who are developmentally disabled if their legal guardian gives permission. The VIP program is now available at the Niles PDS and Niles state police posts for free for a limited time. It's usually $30 to sign up. Anyone who wants to know more can call either location. The state police post can be reached at 269-683-4411. The Niles Police Department can be reached at 269-683-1313.