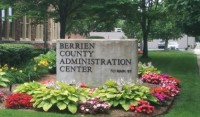 A medical marijuana producer out of Colorado could soon own the vacant Alreco industrial property in Benton Harbor. Berrien County Treasurer Bret Witkowski tells us NoBo Partners recently came to the Berrien County Land Bank with an offer of $450,000 for the 11-acre site. That's after the same offer had been made by the Harvest Group, another medical marijuana producer, earlier this spring. At a Thursday meeting, the land bank voted to tell the two prospective buyers each had ten days to come up with a $20,000 deposit and a letter of support from the city of Benton Harbor. Whichever could meet those terms first would be able to buy the property.
"We've got to try to push this along in order to facilitate and help the city recover their tax base in places where we have an opportunity to help them recover their tax base," Witkowski said.
Witkowski says the Harvest Group and NoBo were informed of the land bank decision around 3:15 p.m. Friday. NoBo came through with the $20,000 deposit and letter of support about 45 minutes later. The next step is for the county to ensure the title is cleared, which could take up to 90 days. Then, the $450,000 sale could be complete. The $20,000 deposit paid by NoBo is non-refundable.