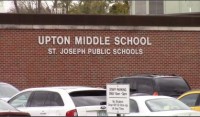 The American Red Cross shelter set up at Upton Middle School for displaced residents of the Cosmo Extended Stay Motel is no longer needed. The Sodus Township motel was shut down due to a fire late last month, and about 27 of its residents were staying at the shelter set up in St. Joe at the shelter's peak. However, as of Thursday morning, the final shelter resident had moved out. Red Cross of Southwest Michigan Director Breeze Ettl spoke with WSJM News about the situation.
"It's been a lot of work this week finding places for folks to stay, but we've succeeded, and with the help of many other organizations and agencies within the community we've been able to make sure that people have safe places to stay," Ettl said.
Ettl tells us the motel fire has once again exposed the shortage of affordable housing in Berrien County, something that was also made apparent with flooding this year. However, the Red Cross and other agencies were able to work with local landlords to find accommodations for all of the motel residents. Ettl says Berrien County residents have been generous to the motel residents by making donations to the Six Degrees Resale Shop and Mosaic CCDA. You can still do so.