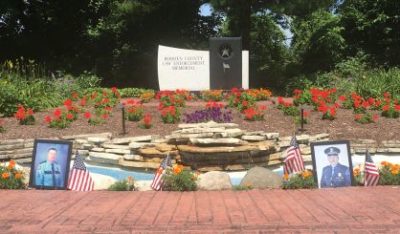 The Berrien County Courthouse officers killed two years ago today are still impacting people in the area. At a memorial for Ron Kienzle and Joe Zangaro at the Berrien County Law Enforcement Memorial in St. Joseph, Sheriff Paul Bailey was asked if it feels like two years have passed since the courthouse shooting.
"No, it seems like yesterday to me," Bailey told WSJM News. He remembered both as men of integrity, good family men, and guys with senses of humor about life and the jobs they did. "As we move forward, we continue to serve because both of them would want us all to continue to serve."
Judge Charlie LaSata remembered how the two worked to keep people safe at the courthouse before they were killed by an inmate trying to escape after a hearing in LaSata's courtroom.
"We'll never forget Ron and Joe. They were our friends, they were our colleagues, and they were our protectors to the end," said LaSata.
Several hundred gathered at 1:15 pm to mark the two year anniversary of the courthouse shooting.