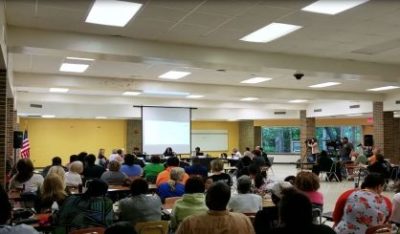 The Benton Harbor Area Schools Board of Education has responded to allegations made by former football coach Elliot Uzelac since his resignation last week. At a Monday hearing, three complaints from board members were read against Uzelac. Board President Marletta Seats took issue with claims Uzelac has made about her.
"Every statement Coach Uzelac said that I said, except that statement about my grand kids, is totally and blatantly a lie, and he did it on purpose because we did not give him his demands," Seats said.
Uzelac did not speak, but his attorney, Brian McMahon, did.
"He wanted to come today and reaffirm to this board that he stands by every word that he said, that he meant it," McMahon said.
Trustee Lisa Gulley had a complaint about Uzelac's statements about her, while Seats, Gulley, and Trustee Margaret Gast had a complaint about Uzelac releasing student information. Seats said Uzelac's claim that more than 1,100 students had Fs as of May was based off a "low current grades report" that did not reflect final grades. She wondered if the matter should go to court. The board's attorney said the first step is a 30 day review of Monday's hearing.