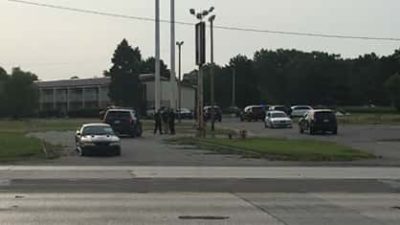 We're learning more about a shooting incident at the Cosmo Extended Stay motel in Sodus Township Friday morning. Tiffany Main tells WSJM News one of the people involved was her boyfriend, and he was trying to protect her and her mother from a man that had held her mom hostage for about a half-hour before she showed up to surprise her and take her to breakfast. Main tells us when she got there, her mother wasn't speaking and was acting strange while the suspect was with her. She says she was able to make out her mother saying the word "gun" before they tried to get the guy to leave.
"He backed out, pulled in, backed out, pulled in and he waited until we thought we were back in the room and he came upstairs firing," Main tells us. "My boyfriend fired back, and we all took off running." No one was shot in the exchange of gunfire.
Main says her boyfriend is licensed to carry a concealed weapon in South Carolina and adds he was acting in self-defense. She credits her boyfriend for saving the lives of her and her mother, and doesn't understand why he's also been taken to the Berrien County Jail. We've reached out to the Berrien County Sheriff's Department for more information, but have not yet received a response.