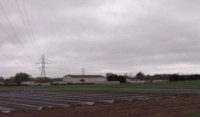 Congressman Fred Upton is hoping to see a new Farm Bill approved in the next month or so. He tells WSJM News he was among the representatives who shot down a Farm Bill proposal last week in the House.
"I voted no on the bill because it was going to deny for us in our corner of the state, in my district, literally thousands of people from being eligible for school lunches," Upton said.
Upton tells us the changes would have affected a lot of Michiganders.
"For Michigan, 50,000 kids would have been taken off school lunches, and I asked the leadership to bring back the same percentage that it was before," Upton said. "They chose not to."
Upton tells us all Democrats and about 40 Republicans said no to the House leadership's Farm Bill last week. Some members of the House Freedom Caucus also voted against the Farm Bill in response to pushes for a new DACA plan. Upton tells us the next step is to wait for a Senate Farm Bill.