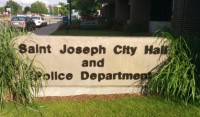 Here's something you've probably never heard before. The city of St. Joseph has accepted the donation of a castle. At Monday's meeting, Marketing Director Susan Solon told city commissioners Turner Construction, the company doing work at Lakeland, approached her about making a donation to the city. With the launch date fast approaching for this year's public art display, "The Magical Kingdom of St. Joseph," she suggested they make a small castle to be displayed on State and Broad Street. Solon spoke more with WSJM News about the display.
"It's going to be made out of cedar," Solon said. "It's going to have a little draw bridge with castle windows, and small children will be able to crawl in there and stand up and have their photo taken."
Solon said having a castle built for the summer art display was proving to be too expensive, but then Turner Construction saved the day. The company will build it the week before the May 18 launch of the display, which will also feature knights, dragons, and horses.