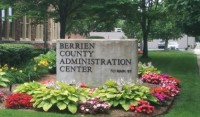 The Berrien County Treasurer's office is once again reminding everyone the property tax payment deadline this year is April 2. Treasurer Bret Witkowski tells WSJM News anyone who hasn't paid their 2015 taxes by then could lose their property.
"If you come in after the foreclosure date, and it happened to a few people last year, the court of appeals will not let any local judge see anybody after the foreclosure date," Witkowski said. "You've got to get in before."
If you owe for 2015 and can't pay your property taxes, speak with Witkowski. He'll put you on a payment plan that usually is about $200 per month. Witkowski tells us more than 600 people are on tax payment plans right now. So far, this year's property tax foreclosures in Berrien County are expected to be down by about 5%.