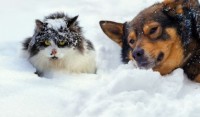 You may be tired of the cold and snow in Michigan, but some are loving it. Travel Michigan Vice President Dave Lorenz told Michigan News Network this week snowmobiling, skiing, and ice climbing are all big in Michigan. He says there are cool things to see in many areas, like ice caves.
"I don't want to necessarily recommend that people go out there without really being with people who know the local area and making sure there's good solid ice underneath, but Traverse City the last couple of years out in Lake Michigan and even i the bay has seen some interesting ice caves formed, and people have been coming fro, all over to look at that," Lorenz said.
Lorenz says there have also been ice caves in Petoskey, Marquette, and Munising. The Michigan Ice Festival begins in Munising on Wednesday. If you take a great Michigan photo, Lorenz says use the hashtag Pure Michigan on social media.