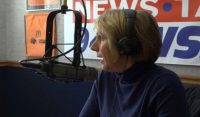 Now running for the Michigan Senate in the 21st District is state Representative Kim LaSata. She tells WSJM News although she's still on her first term in the House, she's ready to move on up. She also thinks her time in the House has prepared her to get work done in the Senate.
"The process in the House is not that easy because there are 110 members," LaSata said. "So, things really do work slowly in the House so I think it will be a fairly smooth transition."
LaSata identifies her top priorities as auto insurance reform, tax reform, and attracting business. She tells us she wants her efforts to have an effect on a bigger area than Berrien County, noting the 21st state Senate District includes Berrien, Cass, and St. Joseph counties. The 21st is currently represented by state Senator John Proos. He'll be term limited out of office after this term. Former state Representative Al Pscholka has announced he is not seeking the Senate post. LaSata tells us that did affect her decision to go for it.