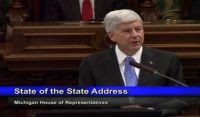 While speaking in Metro Detroit's Oakland County this week, Governor Rick Snyder continued his call for more road funding. That's what he's proposed in his budget plan.
"Even after this next year's budget, you're going to see that number go up because we need better infrastructure, and we need to be smarter about how we're doing our infrastructure," Snyder said.
Snyder is proposing $175 million in new roads funding. That figure comes after the state was slated to fund transportation at $782 million in Fiscal Year 2019.