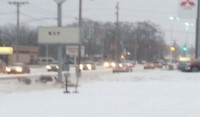 Across lower Michigan, road crews have prepared for a major snowfall expected throughout Friday. Van Buren County Road Commission Engineer Manager Larry Hummel spoke with Michigan News Network about what they were doing there.
"We're making sure that everything's done on the trucks," Hummel said. "So, the crews go through them. If there's something that needs to be tweaked or replaced, they work with our fleet technicians to make sure that we've got things buttoned up."
Forecasters predict up to a foot of snow could fall along the I-94 corridor by early Saturday morning. A winter storm warning is already in effect for much of southwest Michigan.