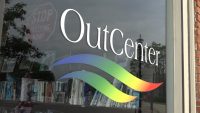 The OutCenter in Benton Harbor is stepping up security following an online threat this week. Director Mary Jo Schnell tells WSJM News one person threw a barrage of hate speech the OutCenter's way, and then suggested violence. She says the organization takes it seriously, but also wants supporters to show they're not afraid.
"We refuse to live in fear," Schnell said. "Not going to happen. So, we encourage people to show up like never before."
Schnell tells us she called the Berrien County Sheriff's Department, and it will be providing increased presence at the OutCenter and OutCenter event sites. She doesn't believe the recent incident speaks for the community.
"We live in southwest Michigan, which can be a safe place for everyone," Schnell said. "It can be an equal place for everyone, and it starts with education, empathy, love, and courage."
The OutCenter staff has been notified of all developments, and they're staying vigilant. Schnell tells us it's one person who made the statements, and police know who it is. She asks supporters to show up to the OutCenter and its events to show solidarity.