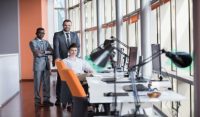 Know someone under 40 who is making a difference in their community? Why not nominate them to be one of the 40 Under 40? It's a new recognition program set up by Moody on the Market. The United Way's Charlotte Becker, the head of the judging committee, tells WSJM News they're looking to salute the real go-getters.
"We're looking for the people who have over the last year or so really shined in their workplace," Becker said. "They've shown very strong leadership skills, they're part of committees or boards, they're getting involved with non-profits, they're volunteering."
Becker says it's exciting to get to salute the next generation of leaders.
"I think it's about time that we did something like this," Becker said. "I think it's fresh…and this is the future of our community, and I think that it's good to recognize them and give them the acknowledgement that they deserve."
Anyone can submit a nomination for 40 Under 40 at MoodyOnTheMarket.com. The judging committee will review the submissions starting February 25, and then a reception for honorees will be held in April.