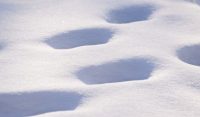 A winter storm bearing down on parts of the Midwest is expected to dump up to a foot of snow on us before it leaves the state Friday night. WNDU NewsCenter 16 meteorologist David Harker says this is not lake effect snow and is coming down from western Canada.
"It's going to make a quick trip, basically leaving a swath over 2,000 miles of snow accumulation from this one system alone," says Harker.
The National Weather Service says snow starting this evening is expected to continue through the day Friday, totaling 8 to 12 inches by day's end in parts of southwestern Michigan. A winter storm warning is in effect starting at 9 p.m. and going through 12 a.m. Saturday.