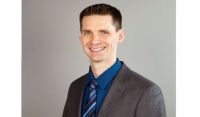 Another Democrat has jumped into a southwest Michigan political race. Now running for Michigan House in Van Buren County's 66th District is Dan Seibert, an IT engineer with Perrigo in Allegan. Seibert lives in Paw Paw, and tells WSJM News he wanted to run because he thinks there's not enough transparency and accountability in state government.
"A recent study found the state of Michigan last in the nation in terms of transparency," Seibert said. "Our legislature is not working to serve the people of Michigan."
Seibert tells us he thinks big moneyed interests have too much influence in Michigan.
"If we reform the political process and make government honest and accountable, that's when it starts working for everyone," Seibert said.
Seibert tells us public education, raising the minimum wage, and increasing access to high-speed internet are other priorities. This is his first run for elected office, and he's going for the seat of state Representative Beth Griffin.