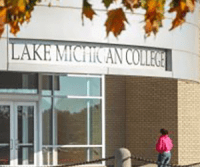 Coming up this month will be some events at Lake Michigan College to help students who are looking to navigate the financial aid system. LMC Financial Aid Director Kemmoree Duncomb tells WSJM News Help Night events will be held at the campuses in Benton Harbor, Niles, and South Haven on Thursday, February 22 from 6 to 8 p.m. The LMC financial aid staff will be on hand to help students fill out applications. Duncomb tells us many students have questions about aid.
"There are so many common myths about college," Duncomb said. "Who can apply? Am I able to pay for it? People tend to underestimate how much need-based aid, as in aid based on income and financial situation that they're eligible for."
LMC offered more than $600,000 in scholarships in the last academic year, and LMC students received more than $9.4 million in federal and state aid during the 2016-2017 academic year. Everyone's welcome to an LMC Financial Aid Help Night. Anyone with questions can call the LMC Financial Aid office.