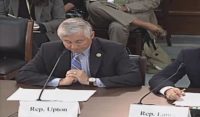 A replacement for the federal DACA program could be coming by the end of the month. That's according to Congressman Fred Upton, who tells WSJM News a meeting on immigration reform with President Trump this past week was promising. Upton says most are on the same page when it comes to helping out the young dreamers in the DACA program.
"For these kids that came, who knows, 15 years ago, maybe at age three or four, they've got no place to go other than here," Upton said. "They've been in our schools, they're working, they pay taxes, they're good citizens, and frankly, they're scared to death."
Upton says immigration reform will also likely feature new border security improvements. He does not think a wall along the border with Mexico is likely. Upton is also optimistic Democrats will be on board with the legislation crafted.