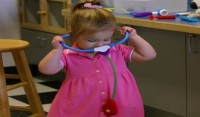 Congressman Fred Upton is expecting quick approval of a plan to fund the Children's Health Insurance Program — or, CHIP — for five more years. Congress went home for the holidays without extending the life of the program that provides healthcare to about nine million children. Now that it's back, Upton tells WSJM News action will be very soon.
"We're very close," Upton said. "Our hope is that we can include it in legislation next week that the president is going to have to sign, and it's a good thing to get it off our plate."
Upton tells us he's attended "a number of" meetings this week on the subject. He says some states are on the verge of being unable to continue the program. CHIP provides care to children in families that don't qualify for other forms of assistance but who are still too poor to afford health insurance.