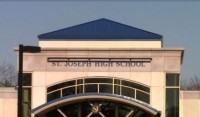 The Michigan Attorney General's OK2SAY tip line has surpassed 10,000 tips from Michigan students since its creation in 2015, and right here in southwest Michigan it has made a difference. High schools have held assemblies in places including St. Joseph, Bridgman, Buchanan, Niles, Stevensville, Bangor, and South Haven to teach the kids about OK2SAY. St. Joe High School Principal Greg Blomgren tells WSJM News it's an ongoing effort.
"When we initially started the program, we did an assembly just for this program to make sure that everybody understood and knew what it was, but now since we've been with the OK2SAY program for a couple years and have it working for us, we still promote it."
And OK2SAY has made a difference. Blomgren tells us anonymous tips come in every couple of weeks at his school.
"Those phone calls come into the assistant principal and they field those calls," Blomgren said. "It's usually a tip that comes in from the state, and we act on the information that they provide to us."
Blomgren tells us the kids feel better about reporting troubling situations if it's going to be anonymous, and OK2SAY enables the adults to help. He says there's no one type of tip that comes in the most. It can be anything from bullying to a fight to suicidal thoughts. Blomgren says the AG's tip line has been a great tool to have. The state tells us bullying and suicide threats are the biggest tips to come in through OK2SAY around Michigan. You can send an anonymous tip to the tip line by texting OK2SAY.