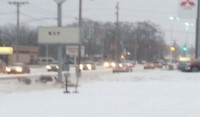 The first significant snow of the season has resulted in a whole lot of cars in ditches. Berrien County Sheriff Paul Bailey tells WSJM News drivers need to remember a few things when there's ice and snow.
"We seem to have the most problems when we get one to two inches of snow because it's so cold and it freezes the roads, and people think, 'Well, it doesn't look so bad,' and they continue to drive the speed limit when they should be driving 10 to 15 miles per hour under the speed limit," Bailey said.
Bailey tells us you're responsible if you wind up in a ditch during snowy conditions. He says you've got to give yourself a lot of extra time to get to where you're going. Not only was there a 32 car pileup on I-94 in Van Buren County Thursday morning, but Bailey says there were small crashes all over Berrien County. Over in Cass County, the sheriff's department reports dealing with 21 crashes between 6 a.m. and noon.