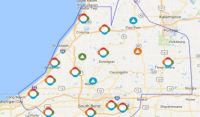 Indiana Michigan Power is working to restore power to everyone who lost it in the region's high winds over the past day or so. Spokesperson Tracy Warner tells us I&M had about 2,000 out as of early evening Tuesday. Most were in the Benton Township and Hartford areas.
"You never really know until the weather hits as to how much damage is going to happen and where it will be, but we do have crews out responding to these outages,and working to have power back on as soon as they can."
Restoration in some areas may take a little longer than in Benton Township and Hartford because there have been a lot of scattered small clusters of outages around the county. Warner tells us downed power lines should always be regarded as though they're live. Don't touch them and call either 911 or the utility. Anyone who wants to stay on top of restoration work can sign up for I&M alerts at the company's website.