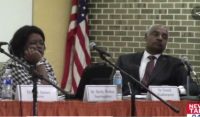 He's been the state consent agreement consultant for Benton Harbor Area Schools since February of 2016, and now, he's retiring. Don Weatherspoon, who is also the state's consent agreement consultant with Pontiac Schools, steps down at the end of this month. Weatherspoon has helped the Benton Harbor Area Schools Board of Education stay in the state's good graces with the district recently facing possible closure. Weatherspoon told WSJM News they've risen to the task.
"I believe things have improved very much so," Weatherspoon said. "I think you'll see improved attitude in terms of being accountable. I think you're seeing that the department of education has invested trust in the district."
Weatherspoon says the financial side of things has greatly improved, with the deficit down several million the last two years. Now, the goal is student proficiency. A new consent agreement consultant, Paul Connors, will now come in, appointed by the Michigan Department of Education. The school board thanked Weatherspoon this week for enduring its many meetings.