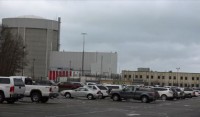 Political leaders around southwest Michigan are praising this week's news that the Palisades nuclear power plant in Van Buren County will stay open through 2022. Congressman Fred Upton tells WSJM News the plant's 600 workers can breathe a sigh of relief. 
"It's good news, certainly for the community and the 600 people who work there, that's for sure," Upton said. "We want this always, always to be a very safe place, and we want not the politicians to make the decision, but the experts. That's what's happened here."
Upton is expecting a U.S. House vote in the next couple of weeks on establishing a nuclear waste depository at Yucca Mountain. Meanwhile, Mattawan state Representative Beth Griffin tells us she was pleasantly surprised by Thursday's news.
"I and 600 employees of the Palisades nuclear power plant are going to sleep a lot better tonight knowing their jobs are going to be secure for a few more years," Griffin said.
Griffin says the next step is to use the next few years to prepare for the Palisades closure. State Representative Kim LaSata of Bainbridge Township also issued a statement Thursday.
"I was very encouraged to hear that Entergy will continue to operate Palisades through spring of 2022," LaSata said. "This decision brings stability to the many residents of Northern Berrien County who are employed by the power plant. It is welcome news for the entire region. "
Thursday's decision came when Palisades owner Entergy and Consumers Energy decided not to end their power purchasing agreement early.  That's due to a Michigan Public Service Commission decision last week granting Consumers recovery of only $136.2 million of the $172 million it requested to buy out the deal.