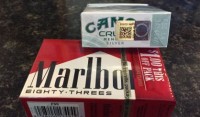 A new report from the Mackinac Center for Public Policy takes a look at the prevalence of cigarette smuggling and finds the higher your state's cigarette taxes are, the more likely smokes are being sneaked in from states with lower taxes. Police Director Michael LaFaive tells WSJM News the amount of illegal cigarettes brought into Michigan has been going down as other states raise the tax and we don't.
"We were ranked tenth in the nation overall for the amount of inbound smuggling that's occurring in Michigan, but we've dropped to 12th, so our position is getting better, and I expect that to continue getting better as states raise taxes," LaFaive said.
LaFaive tells us the biggest source of smuggled smokes is New Hampshire.
"The reason they are the highest export state is they are surrounded by states that have very high excise tax rates, like Massachusetts or Rhode Island," Lafaive said. "So, they're  basically cigarette providers to New England."
LaFaive says tons of cigarettes are sneaked into New York each year, as an estimated 55% of the cigarettes smoked there are from out of state. To get its data, the Mackinac Center looked at smoking rates in each state, versus tobacco sales there. LaFaive says people either go to other states and buy cigarettes for their own personal use, or commercial smugglers bring them in. From there, the cigarettes are likely to be sold as "looseys" at smaller shops.