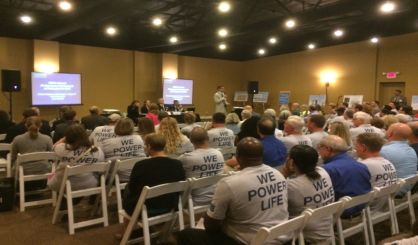 The Nuclear Regulatory Commission has determined that the Palisades plant in Van Buren County operated safely in 2015. That's the message the NRC had for about 300 attendees of its annual Palisades town hall in South Haven Thursday night. NRC Region 3 Administrator Cynthia Peterson says the plant has overcome the more serious issues which caused increased oversight from the agency in recent years.
"This upcoming year of 2016 we're anticipating, based on the most recent performance, that we would be able to do our routine level of safety inspection," Peterson told WSJM.
Many of those who attended the town hall were Palisades employees who expressed confidence in the plant's safety standards. Some environmentalists did have questions about tritium released into Lake Michigan and cancer risks. NRC officials said the plant does not pose a hazard to the public.