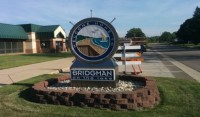 Body cameras could coon be in the cards for police officers in Bridgman. Chief Dan Unruh says the department will receive a sample camera from a California company in the next few months. They'll try it out, and Unruh will decide later if the department will seek the public's help in buying five of them for all of the department's officers. Peter Austin Onruang, the founder of Wolfcom, the company Unruh has contacted, says he's working with more than 400 agencies.
"What it does is it cuts down on complaints, lawsuits, and it actually saves cities, states, and departments millions of dollars overall," Onruang told WSJM.
Chief Unruh told us body cams cost anywhere from $400 to $800 each. Bridgman police do have vehicle cameras, but Unruh says body cams are good to have in the event of complaints about an officer's conduct. If the department decides to pursue them, it may seek funding through BodyCameraDonations.com, which is run by Wolfcom.