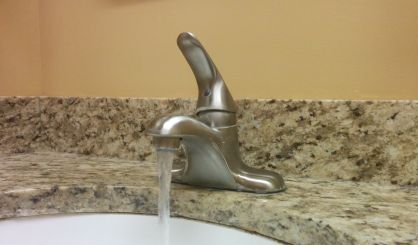 The Michigan National Guard is helping distribute bottled water and water filters in the city of Flint after Governor Rick Snyder activated them yesterday. Touring the North American International Auto Show in Detroit, the governor said Flint's water situation needs to be cleaned up.
"This is part of my legacy," Snyder told a throng of reporters on the auto show floor. "I am responsible for the entire state and our operations, but there are many other good things going on and we're working hard to recover from this."
The governor has also reached out to Washington for help through the Federal Emergency Management Agency. Reporters questioned him if it's too little, too late.
"There's no delay, this is the normal process," Snyder said. He referenced floods in Detroit, saying it took more than 30 days to go through the process.
This is the first time since 2012 the Michigan National Guard has been activated. Snyder has also sent a request to the Federal Emergency Management Agency for federal help with the Flint water situation. The problems started when a state-appointed emergency manager switched Flint's water supply from the Detroit system to the Flint River, which is much more corrosive and sent lead from pipes into homes, resulting in high blood-lead levels in children. The governor ordered Flint's water to be reconnected to the Detroit system last year, and declared a state of emergency last week.