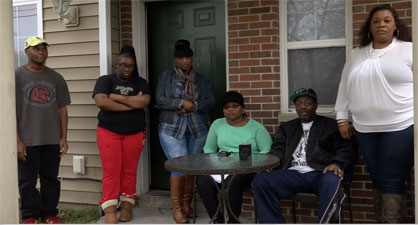 The family of Roy Thompson, the suspect in the Friday shooting that killed a Benton Harbor Man, are speaking out about the events that took place. Thompson's Sister, Jeannette Streeter-Ward, and her husband, Ira Ward Junior, met with members of the media at their home Saturday afternoon. While they did not deny the fact that Thompson killed 53-year-old Dave Krieger, they believe it was an act of self-defense.
The Family reports they have an eyewitness who saw Krieger provoke and push Thompson during the altercation which led to Thompson pulling a gun and killing Kreiger. The family stressed that this was out of character for Thompson, they say he is not a bad person, and that they believe he was only defending himself.
Thompson is being held at the Berrien County Sheriff's Department. He is charged with Open Murder, Felon in Possession of a Firearm, Felony Firearm and Carrying a Concealed Weapon.
He's plead guilty to possession of marijuana back in 2005 and was sentenced to a maximum of a year and then was charged with carrying a concealed weapon in 2013 and was sentenced to up to 3 years in prison. He was released from prison in October of 2013 and is currently on probation for that charge.
Ray Thompson will be arraigned in court this week.