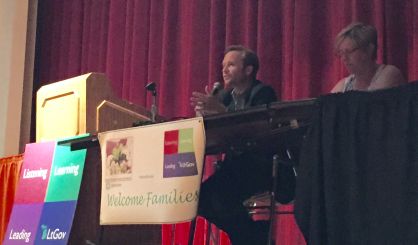 Lieutenant Governor Brian Calley is recommending that Michigan lawmakers put into law what the State Board of Education has already recommended: eliminating any use of seclusion and restraint of misbehaving special education students unless they pose an imminent danger to themselves or others. The board adopted such a policy in 2006, but it was never put into state law, and Calley says some schools continue to use restraints when they shouldn't.
He also says there is no requirement for a school to report when restraints are used. Calley also wants school districts to provide true Individualized Education Programs for students, adding he's learned that too often, IEPs are nowhere near individualized.
Calley's comments came as he delivered a report on the outcome of recent town hall meetings on special education policies in Michigan. It was part of the state board's Tuesday meeting that included presentations on how to make Michigan a top 10 education state. Calley made a stop at Benton Harbor High School on June 15 to hear from special education parents in Southwest Michigan.
Podcast: Play in new window | Download | Embed
Subscribe: Apple Podcasts | Android | Email | Google Podcasts | Stitcher | Spotify | RSS | More