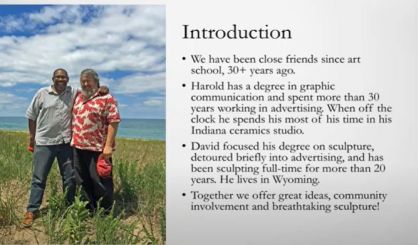 The artists have been selected for the Unified Civic Monuments Project in Benton Harbor and St. Joseph. After a national search, the team of Harold Woodridge and David Alan Clark have been selected to design and install the monuments. The project seeks a total of four monuments. Each city would get a monument to Dr. Martin Luther King, and the Krasl Art Center's Laura Winkle tells WSJM News Woodridge and Clark are proposing "Bridges," which includes a cast bridge in each city.
"This concept would be that this bridge would connect, symbolically, the two sides, and on the bridges there could be these interactive, continually growing response tiles," Winkle said.
Winkle says the other announced proposal is "A Seat at the Table," featuring a table split into two halves of a ying-yang symbol to be in each city.
"The idea is that people could actually sit at the tables. They could have picnics or family meals, and at the head of this table is Dr. Martin Luther King."
Winkle says Woodridge and Clark have worked together for decades, and their friendship and collaboration is an apt symbol for Benton Harbor and St. Joseph. The other monuments planned as part of the project have yet to be announced. The Unified Civic Monuments Project is almost half of the way to its fundraising goal of $850,000. The goal is to start working on the monuments next year.