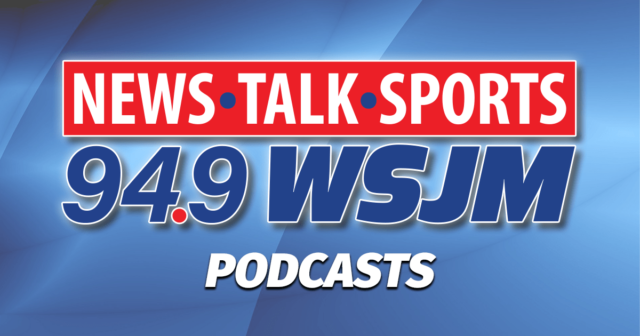 NHL – National Hockey League – Season Opener
Last Night
Colorado Avalanche 4, Chicago Blackhawks 2
Avalanche 4, Blackhawks 2 – Byram gets first NHL goal, Avalanche beat Blackhawks 4-2
Bowen Byram scored his first NHL goal and added an assist to lead the short-handed Colorado Avalanche to a 4-2 win over the Chicago Blackhawks. Nazem Kadri and Gabriel Landeskog each had a goal and an assist for Colorado, which played without star center Nathan MacKinnon and head coach Jared Bednar. Both are in the COVID-19 protocol and away from the team. Assistant coaches Ray Bennett and Nolan Pratt led the team. Darcy Kuemper stopped 32 shots in his Avalanche debut and Jack Johnson added a goal. Kuemper, acquired from Arizona in the offseason, wasn't tested early but made two big saves on Kirby Dach in the second period. Dach had a breakaway at 12:02, but Kuemper closed the pads on his shot. Minutes later, he had another wide-open chance from the left circle that Kuemper stopped.
Tonight
Tampa Bay Lightning at Detroit Red Wings, 7:30 p.m.
NFL – National Football League – Week 6
Tonight
Tampa Bay Buccaneers at Philadelphia Eagles, 8:20 p.m.
NFL – Lions coach Campbell says Ragnow feels guilty about surgery
Detroit Lions coach Dan Campbell says center Frank Ragnow feels guilty about having season-ending toe surgery. Campbell says Wednesday that the surgery went well, adding Ragnow does not need to feel bad about doing the right thing for his long-term future. Ragnow was hurt earlier this month at Chicago and went on injured reserve last week. Center Evan Brown made his first career start in Sunday's loss at Minnesota. The Lions signed Ragnow to a $54 million, four-year extension in May that keeps him under contract through the 2026 season. The Lions host the Cincinnati Bengals on Sunday.
NFL – Fields understands rivalries going into game against Packers
Chicago Bears rookie quarterback Justin Fields is getting his first taste of the rivalry against the Green Bay Packers, a lopsided one since Aaron Rodgers became a starter, and it's not a new situation for him considering Fields played in the Michigan-Ohio State rivalry. Fields' passing numbers haven't been up to the kind his counterpart has put up, but he said he's more interested in getting the win than statistics as the Bears try to end a four-game Green Bay winning streak in the series.
MLB – Major League Baseball – Division Series – (Best of 5)
Tonight
Los Angeles Dodgers at San Francisco Giants, 9:07 p.m.             (Series tied 2-2)
MLB – After another early exit, White Sox shift focus to future
The Chicago White Sox are shifting focus toward next season after they were eliminated in convincing fashion by Houston in an AL Division Series. Another early exit wasn't what they envisioned. The White Sox thought they were in position to make a run in October with stars like José Abreu and Tim Anderson and Hall of Fame manager Tony La Russa back for a second stint. Chicago ran away with the AL Central, only to get pushed around by the Astros. Abreu says the White Sox "did our best" and Houston was "better."
MLB – Playoff series for the ages as Dodgers, Giants go to Game 5
Everybody expected a playoff series for the ages between the century-old rival Dodgers and Giants, and now they've got it. Anything less than a winner-take-all Game 5 would have been a baseball travesty, leaving the sport short-changed on the October stage. It's the 107-win, NL West champion Giants vs. the defending World Series champ Los Angeles Dodgers for a place in the NL Championship Series against Atlanta starting Saturday night. It all comes down to Game 5 on Thursday night, back at the San Francisco's Oracle Park after the Dodgers staved off elimination with a 7-2 victory at home Tuesday night.
WNBA – Women's National Basketball Association Finals – Best of 5
Last Night
Phoenix Mercury 91, Chicago Sky 86 – OT                                   (Series tied 1-1)
Mercury 91, Sky 86 – OT – Mercury even WNBA Finals with 91-86 overtime win over Sky
Brittney Griner dunked while scoring 29 points, Diana Taurasi had eight of her 20 points in overtime and Phoenix Mercury evened the WNBA Finals with a 91-86 win over the Chicago Sky. Griner kept the Mercury within reach of Chicago during a sluggish start and brought the Phoenix Suns players sitting courtside to their feet with her second career playoff dunk in the first quarter. She scored on a turnaround jump to help give Phoenix a late four-point lead in regulation, but just missed blocking Courtney Vandersloot's tying layup with 4.4 seconds left. Taurasi opened overtime with a four-point play and added a 3-pointer that put Phoenix up 89-86 with 1:24 left. Skylar Diggins-Smith, who had 13 points and 12 assists, sealed it on a layup with 12.8 seconds left.
NBA – National Basketball Association Preseason
Last Night
New York Knicks 108, Detroit Pistons 100
Indiana Pacers 109, Memphis Grizzlies 107
NBA – Irving: Refusal to get vaccinated about 'what's best for me'
Kyrie Irving says he doesn'tt want to lose salary or a chance to compete for a championship with the Brooklyn Nets, but was doing "what's best for me" by refusing to get the COVID-19 vaccine. The Nets decided Tuesday that Irving wouldn't be with the team because he isn't eligible to play in home games, where a New York mandate requires professional athletes playing for one of the city's teams to be vaccinated to practice or play in public venues. Speaking on Instagram Live, Irving said he loved basketball and wasn't going to retire and understood the consequences of his decision.
FIFA – Weah, Dest spark US to 2-1 win over Costa Rica in qualifier
Tim Weah's shot for the go-ahead goal deflected off the near post and then off backup goalkeeper Leonel Moreiera in the 66th minute after Sergiño Dest started the comeback from a first-minute deficit, and the United States rallied to beat Costa Rica 2-1 to ease pressure as World Cup qualifying neared the halfway point. Goalkeeper Zack Steffen, one of nine new starters inserted by coach Gregg Berhalter following Sunday's dismal 1-0 loss at Panama, made a costly headed clearance that led to Keysher Fuller's goal 60 seconds in. Dest tied it in the 25th minute when he curled a shot past Keylor Navas.
NJCAA – Junior College Sports
Last Night
Women's Soccer
Jackson College 1, Lake Michigan College 0
Women's Volleyball
Jackson College 5, Lake Michigan College 0
Tonight
Women's Volleyball
Lake Michigan College at Glen Oaks Community College, 6:30 p.m.
Women's Basketball
Lake Michigan College at IU-South Bend, 6:00 p.m.
MHSAA – High School Sports
Last Night
Girls Volleyball
St. Joseph 3, Kalamazoo Central 0
Michigan Lutheran 3, Eau Claire 0
Boys Soccer – Districts
Division 1 at Okemos (Round 1 at local sites)
Grand Ledge 3, Kalamazoo Central 2 – Shootout
East Lansing 4, Holt 3
Division 2 at Allegan (Round 1 at local sites)
Zeeland East 2, Allegan 0
Otsego 1, Plainwell 0 – 2 OT
Division 2 at Gull Lake (Round 1 at local sites)
Eaton Rapids 2, Battle Creek Pennfield 0
Division 2 at Coldwater (Round 1 at local sites)
Sturgis 3, Harper Creek 2
Coldwater 4, Parma Western 3

Division 3 at Dowagiac (Round 1 at local sites)
Buchanan 4, Brandywine 0
South Haven 7, Berrien Springs 0
Division 3 at Fennville (Round 1 at local sites)
G.R. Covenant Christian 2, Hopkins 0
Wyoming Lee 2, Fennville 1
Division 3 at Delton-Kellogg (Round 1 at local sites)
Delton-Kellogg 3, Comstock 0
Olivet 4, Quincy 1
Division 4 at Kalamazoo Hackett (Round 1 at local sites)
Kalamazoo Christian 8, B.C. Calhoun Christian 0
Today
Volleyball
Lake Michigan Catholic at Brandywine, 6:00 p.m.
River Valley at Marcellus, 6:00 p.m.
Countryside at New Buffalo, 5:00 p.m.
Sturgis at Allegan, 6:00 p.m.
Dowagiac at Edwardsburg, 6:00 p.m.
Otsego at Niles, 6:00 p.m.
Paw Paw at Vicksburg, 6:00 p.m.
Three Rivers at Plainwell, 6:00 p.m.
Bangor at White Pigeon, 7:00 p.m.
Kalamazoo Hackett at Watervliet, 6:30 p.m.
Martin at Constantine, 6:30 p.m.
Parchment at Fennville, 6:30 p.m.
Delton-Kellogg at Gobles, 6:30 p.m.
Galesburg-Augusta at Saugatuck, 6:30 p.m.
Girls Swimming and Diving
Plainwell at St. Joseph, 6:00 p.m.
Cross Country
Dowagiac Rock N' Run, 5:00 p.m.
St. Joseph, Benton Harbor, Lakeshore, Lake Michigan Catholic, Cassopolis, Coloma, Constantine, Decatur, Delton-Kellogg, Dowagiac, Lawton, Paw Paw, Three Rivers, Watervliet, White Pigeon, Berrien Srpings, Bridgman, Buchanan, Eau Claire, Edwardsburg, New Buffalo, Niles, River Valley.

Boys Soccer – Districts
Division 1 at Okemos (Round 1 at local sites)
Portage Central at Battle Creek Lakeview, 6:00 p.m.
Lansing Everett at Portage Northern, 6:00 p.m.
Kalamazoo Loy Norrix at Okemos, 6:00 p.m.
Division 2 at Allegan (Round 1 at local sites)
Hamilton at Holland, 6:00 p.m.
Wayland at Zeeland West, 6:00 p.m.
Division 2 at Mattawan (Round 1 at local sites)
Lakeshore at Niles, 4:30 p.m.
Paw Paw at Mattawan 6:00 p.m.
Edwardsburg at Three Rivers, 6:00 p.m.
Division 2 at Gull Lake (Round 1 at local sites)
Charlotte at Middleville T-K, 6:00 p.m.
Battle Creek Central at Hastings, 6:00 p.m
Division 2 at Coldwater (Round 1 at local sites)
Jackson Northwest at Vicksburg, 6:00 p.m.
Division 3 at Fennville (Round 1 at local sites)
GR West Catholic at Unity Christian, 6:00 p.m.
Division 3 at Delton-Kellogg (Round 1 at local sites)
Parchment at Constantine, 5:00 p.m.
Jonesville at Hillsdale, 5:00 p.m.
Division 4 at New Buffalo (Round 1 at local sites)
Bridgman at New Buffalo, 6:00 p.m.
Michigan Lutheran at Lake Mich. Catholic, 6:00 p.m.
Division 4 at Lawton (Round 1 at local sites)
Lawrence at Kalamazoo Heritage, 5:00 p.m.
Howardsville Christian at Lawton, 6:00 p.m.
Podcast: Play in new window | Download (Duration: 2:25 — 2.2MB) | Embed
Subscribe: Apple Podcasts | Spotify | Stitcher | Email | RSS | More